The Story Behind the WordPad Word Processing Engine

"If you cringe at the cost of popular word processing programs but find Windows WordPad doesn�t quite get it, Jarte is a compelling alternative...."
—Smart Computing magazine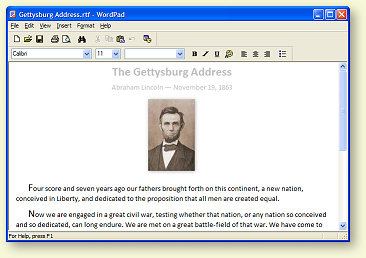 WordPad has been built into every copy of Windows since Windows 95. It's the word processor many people prefer when they want to get a writing task done without wrestling with a big office style word processor. WordPad has the advantage of being fast starting, easy to use, and not needing much screen space.
WordPad consists of two main parts: the WordPad program itself and its word processing engine which is actually part of the Windows operating system. It is not generally known that the word processing engine used by WordPad is far more powerful than what is revealed by the WordPad program. This has occurred because Microsoft has steadily enhanced the WordPad engine over the years while making few corresponding enhancements to the WordPad program. Microsoft has enhanced the WordPad engine because it is used for purposes other than powering WordPad. For example, Microsoft uses the engine to augment portions of its Office Word word processor. The Jarte program takes advantage of the WordPad engine's true capabilities by wrapping a far richer feature set around the engine than the WordPad program does.
The advantage of Jarte's approach is that its reliable word processing engine is created and maintained by Microsoft's software engineers. That also ensures documents created with the WordPad engine will be compatible with Microsoft's Office Word. Other word processors generally use their own home grown word processing engines which explains why they have trouble achieving full compatibility with the Office Word word processor.
Occasionally, some people will find that WordPad is missing from their computer. When this happens it is generally the WordPad program file that has been removed in some way, not the word processing engine WordPad uses. That is why Jarte will work even on computers where WordPad is missing —Jarte only needs the word processing engine which is a protected part of the Windows operating system.
When Jarte is installed on a computer it does not interfere with the WordPad program. In fact, both WordPad and Jarte can be running at the same time, both using the same word processing engine.