| | |
| --- | --- |
| Main menu: | View > Show Bookmark Gutter |
| | View > Show Bookmark Gutter |
| | View > Show Bookmark Gutter |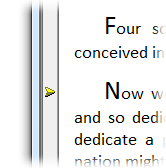 Setting and Removing Bookmarks
Jarte provides an easy to use bookmarking system. Bookmarks are set simply by clicking in the bookmark gutter (along the left side of Jarte's editing pane) next to the line of text to be bookmarked. A bookmark symbol

appears in the bookmark gutter to designate the bookmarked line. Click a bookmark to remove it. Bookmarks can also be set and removed using keyboard shortcuts Ctrl+F2 and Shift+Ctrl+F2, respectively.
Bookmarks in a rich text document are stored as part of the document (i.e., changes to a document's bookmarks are retained only if the document is subsequently saved). Bookmarks in a plain text document can not be saved as part of the document. However, Jarte remembers bookmarks in a plain text document as long as the document is either in Jarte's list of recent files or in the list of favorite files.
Navigating Between Bookmarks

Two bookmark buttons appear at the bottom of the bookmark gutter whenever bookmarks are present in the document. Click the buttons to move the text cursor to the next, or previous, bookmark. You can also use the F2 key to move to the next bookmark and Shift+F2 to move to the previous bookmark. Other bookmark navigation choices (i.e., go to first bookmark or last bookmark) can be accessed by right clicking in the bookmark gutter. Bookmark navigation wraps the document, so if the text cursor is located at the last bookmark then pressing F2 to move to the next bookmark moves the text cursor to the first bookmark in the document.
Automatically Open Document to Bookmark
Documents opened using the Always Reopen Last Session feature will automatically navigate to the document's first bookmark when opened, if a bookmark is present.
Advanced setting Open to Bookmark can be used to direct Jarte to always navigate to a document's first (or last) bookmark whenever any document containing at least one bookmark is opened.