| | |
| --- | --- |
| Background Spell Check | |
| | |
| --- | --- |
| Main menu: | Tools > Spell Check Options > Background Spell Checking |
| | Edit > Spell Check Options > Background Spell Checking |
| | Spell Check Panel > Options > Background Spell Checking |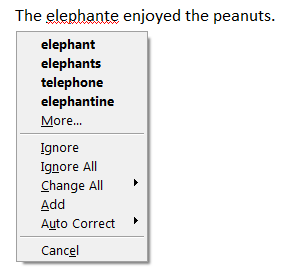 Jarte Plus underlines misspelled words with a wavy red line as you type when Background Spell Checking is turned on. The Background Spell Checking menu can be displayed for a misspelled word by clicking the wavy red line, right clicking the word, or pressing the context menu key while the text cursor is positioned within the word.
The Background Spell Checking menu functions exactly the same as the menu for menu based spell checking.


Carolina Road Software

Copyright © 2001-2011 Carolina Road Software L.L.C. All rights reserved.